Steampunk & Victorian Costume at Step Out of Time Steampunk and More
In This Category: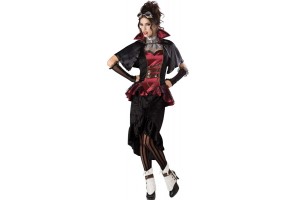 Steampunk mixes Victorian 1800s style and sensibilities with steampowered technology of its future, based partially on the works of HG Wells.
Our selection of Victorian and Steampunk Costume, dresses, jewelry and shoes give you that future/past look for fancy dress parties, Halloween, or every day. Steampunk goggles are of pretty standard, of course, but here you will also find top hats, corsets, steampunk fashion, parasols and Victorian style shoes and boots for both men and women.
Pick a great Victorian corset, pair it with a steampunk skirt and mix in some steampunk jewelry and accessories for a look that is all yours. Customize, mix and match to your hearts content.
---